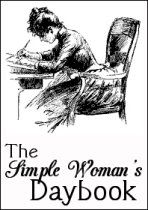 FOR TODAY
January 12, 2009
...
Outside My Window...
there is 9 inches of snow on the ground. The sky is threatening us again.
I am thinking...
about the goals I have for the house. I need to continue on the path I have taken instead of standing back and patting myself on the back for what I have accomplished.
I am thankful for...
the me time I had yesterday. It refreshed me.
From the learning rooms...
we will continue with math games, writing prompts/journal jars, music practice and a few odds and ends.
From the kitchen...
croutons are baking.
I am wearing...
Eeyore
pj
bottoms, my yellow Northwest Missouri State t-shirt and brown suede slippers.
I am creating...
an art
piece
for my kitchen.
I am going...
to town on Wednesday.
I
am reading...
nothing as of right now.
I am hoping...
for a great week!
I am hearing...
the computer hum, the
TV
in the background and ringing in my ears.
Around the house...
more simplifying needs to be done, walls washed and floors
vacuumed
.
One of my favorite things...
looking through past pictures and remember the fun we have had.
A Few Plans For The Rest Of The Week:
making bagels, making pitas, meeting with supervising teacher, watching Wife Swap
Here is picture thought I am sharing...
crusin
' along the Cedar